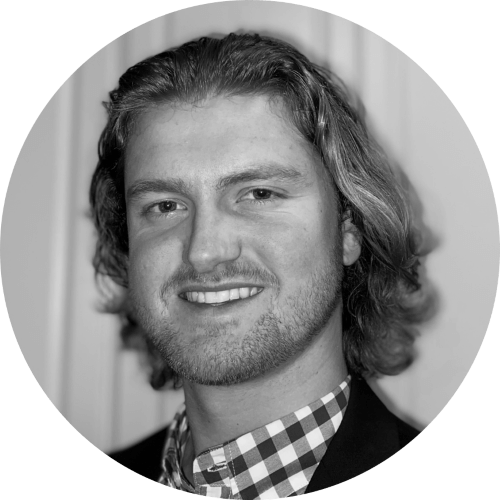 By Drew Todd
Tue | Oct 4, 2022 | 4:38 PM PDT
SecureWorld recently wrapped up its 20th annual Detroit cybersecurity conference, returning to the Motor City for the first time since before the pandemic.
The agenda was packed with exceptional industry experts representing some of the biggest organizations in the region, like Little Caesars Enterprises, the Detroit Pistons, Rocket Central, and Ford Motor Company.
Our speakers discussed a range of hot cyber topics, including business email compromise (BEC) scams, cyber warfare, Zero Trust, burnout, and so much more.
You really had to be there to soak in everything discussed between speakers, attendees, and our sponsors, but if you were unable to attend for some reason, we've got you covered with highlights from the event.
Day 1 of SecureWorld Detroit 2022 cybersecurity conference
The event kicked off with an opening keynote led by U.S. Secret Service agents Joshua Seney and Stephen Dougherty. Dougherty is a Financial Fraud Investigator for the Global Investigative Operations Center (GIOC), and Seney works as a Network Intrusion Forensic Analyst (NIFA) at the Michigan Field Office.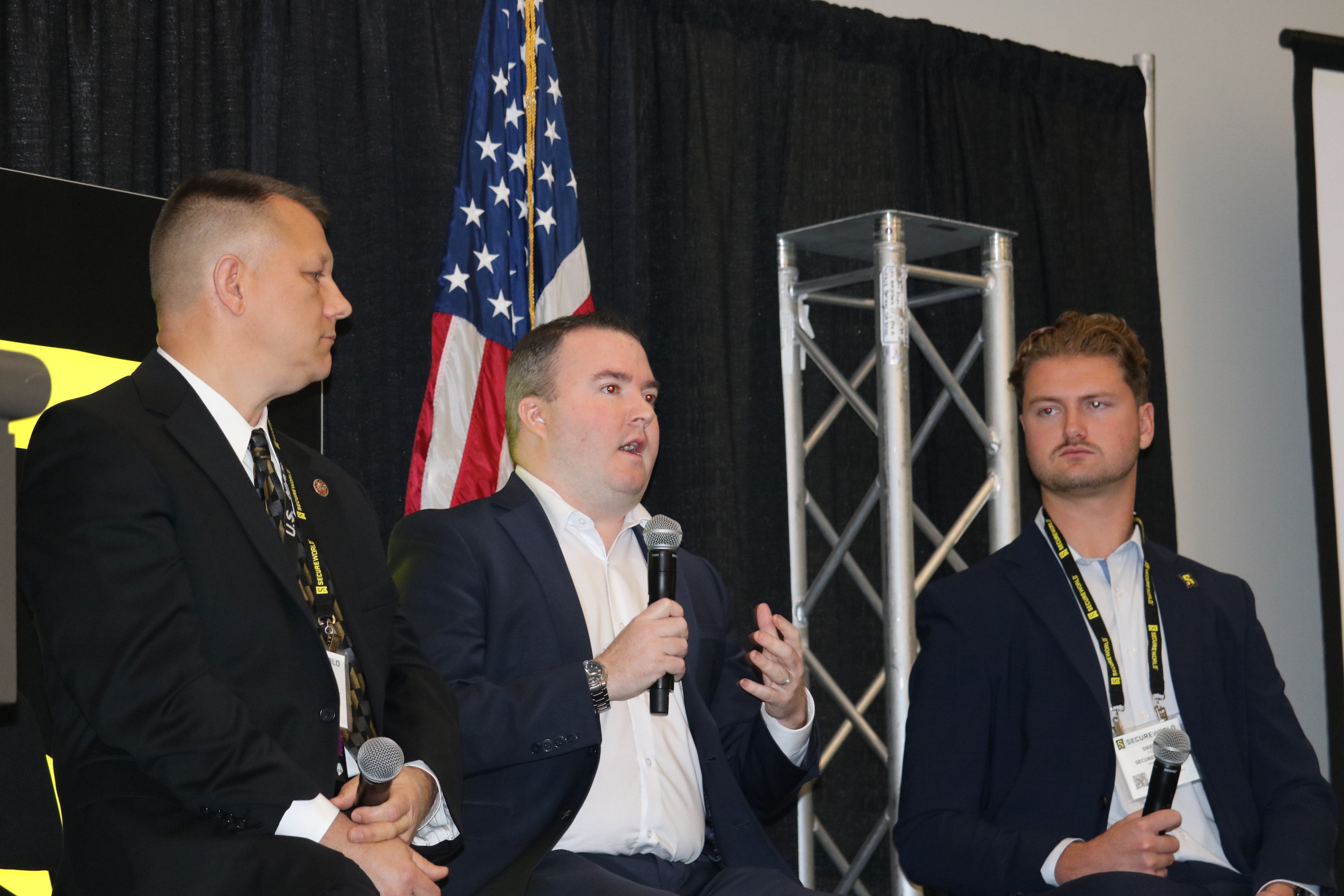 Seney (left), Dougherty (middle), and myself (right)
The two discussed BEC attacks, cryptocurrency fraud, and the investigative powers the Secret Service has when it comes to these incidents. They both shared fascinating stories of real-life scenarios when they were involved in active cases, capturing the audience's attention for the entirety of the session.
One thing they both stressed during the presentation was how important reporting is for organizations that experience a cyber incident. Time is of the essence when it comes to cybercrime, as criminals can quickly launder cryptocurrencies across the world. If victim organizations delay reporting or don't report at all, it makes these guys' job much more difficult.
Moving on through the first day of the conference, we had some sessions unique to the city of Detroit. Paul Rapier, Vice President of Information Technology for the Detroit Pistons, led a discussion on best practices for InfoSec teams. And a panel was held to discuss cybersecurity in the automotive industry, specifically the Auto-ISAC's new training program.
Our lunch keynote panel was titled Demystifying Cybersecurity in the Boardroom, a topic many security leaders struggle with. The panel was lead by Nick Schappacher, SVP & Deputy CISO at KeyBank, Mary Rowley, Sr. Manager of Third-Party Risk at Raytheon Technologies, and moderated by Ryan Mostiller, IT Security Senior Manager at BorgWarner.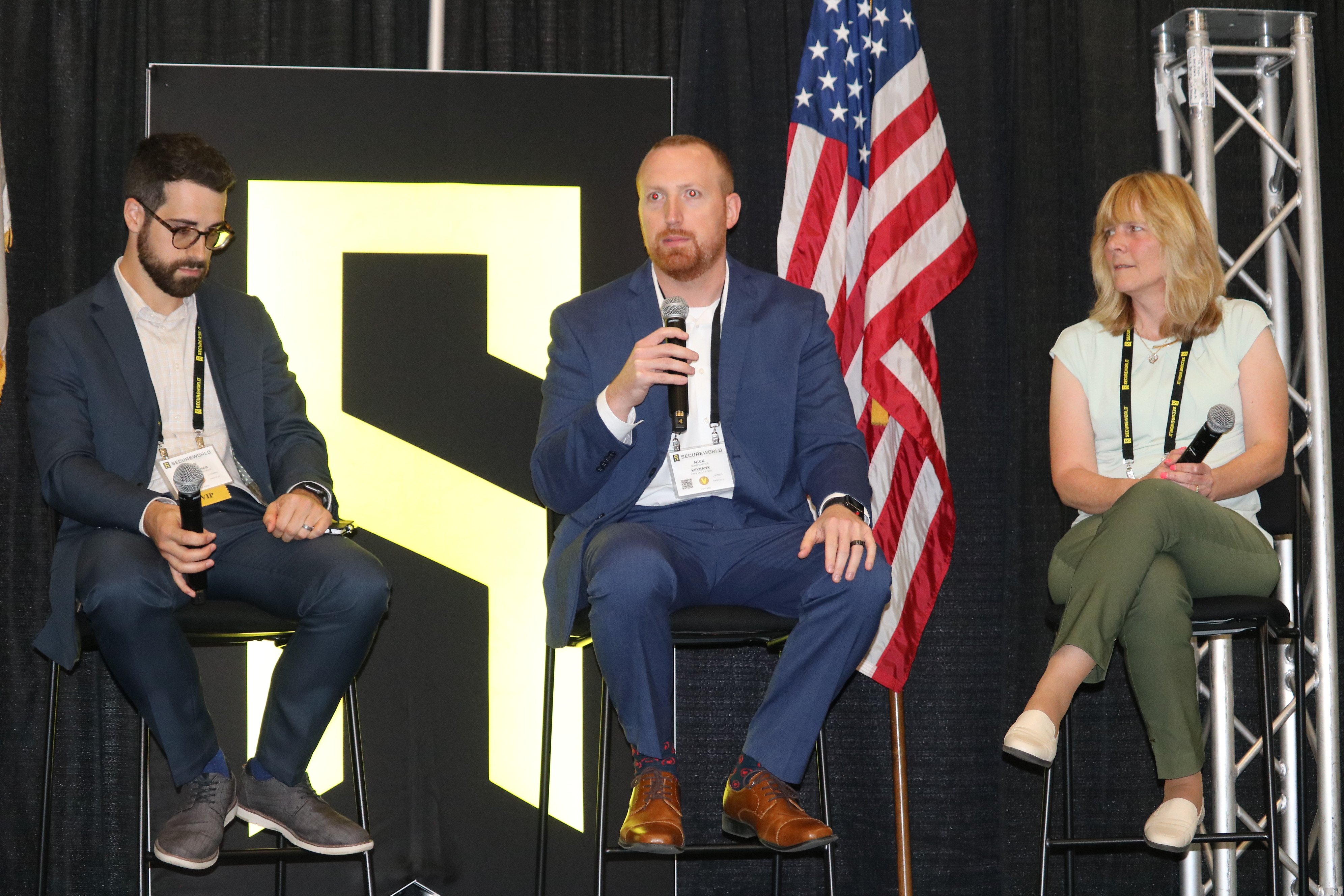 Mostiller (left), Schappacher (middle), Rowley (right)
They discussed ways they have found to be successful when approaching the Board about cybersecurity issues. Things such as explaining complex terms and ideas in simple language (which is not so easy to do), using integrated exercises to get executives actually involved, and doing your best to explain how difficult it is to actually keep malicious threat actors out of your system.
If a nation-state actor wants to find a way in, they are going to find a way. The session moderator, Ryan Mostiller, IT Security Senior Manager at BorgWarner, shared this quote:
"They say the attacker has to be right one out of 100 times, while we have to be wrong one out of 100 times for something bad to happen. It's odd to think about walking into something with a defeatist attitude of 'we will lose one day,' but it's better to think about the time that you will lose or the time that something will not go right than to never think about it."
To close out Day 1 of SecureWorld Detroit, Jennifer Dukarski of Butzel Long, who goes by the moniker of The Geek Lawyer, discussed the importance of enterprise systems, looking at cyber infrastructure through a legal lens.
Day 2 of SecureWorld Detroit 2022 cybersecurity conference
The second day of our Detroit conference was another valuable experience for attendees. The day began with a keynote from Samatha Harish, who works as the Emerging Technology Product Owner of Advanced Infrastructure Technologies at Ford.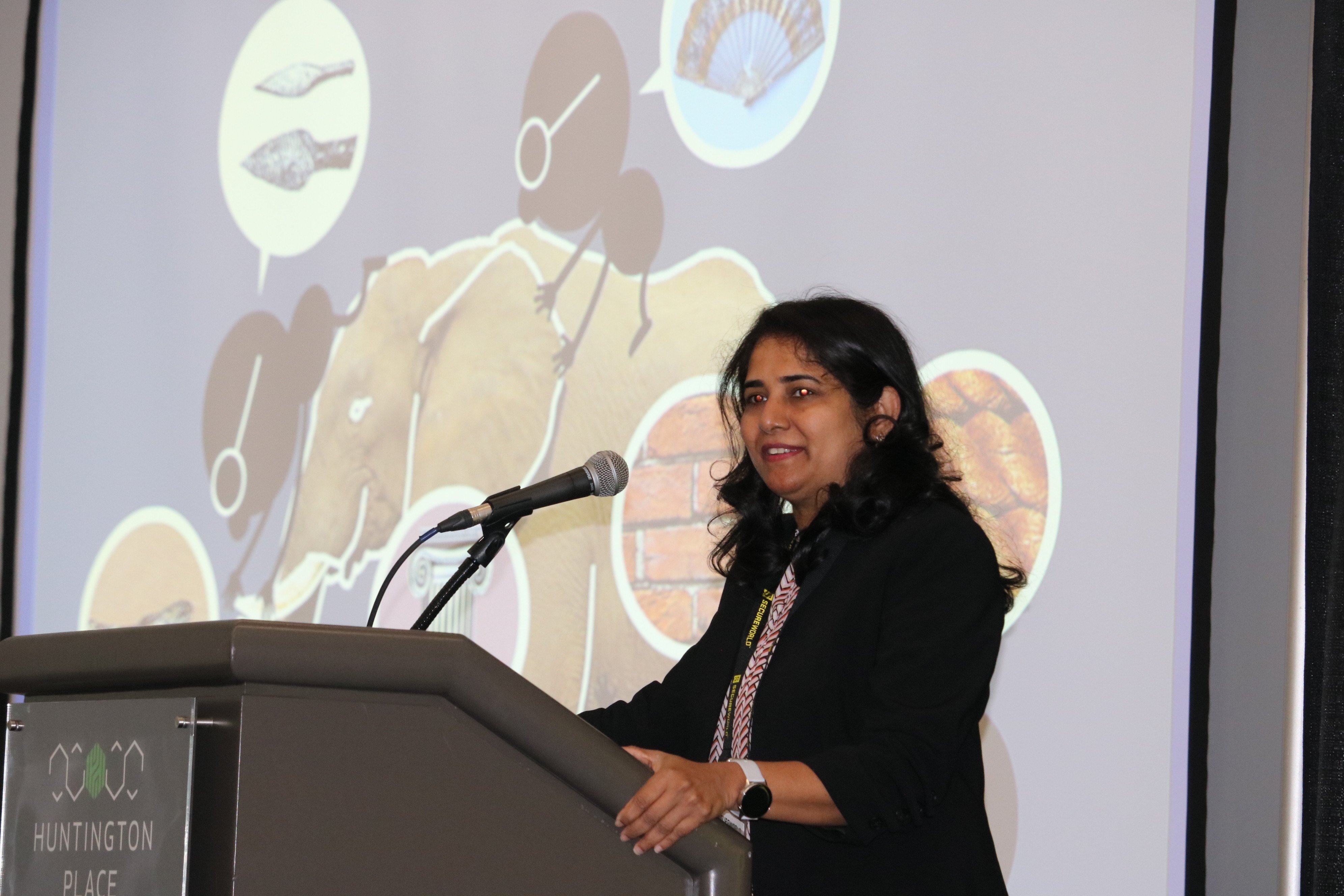 She discussed Zero Trust, including the history of the term, why it is so important now, and some strategies organizations can use to achieve Zero Trust. Of course, Harish was not the only speaker interested in talking about this. With the way things have moved in the industry in the last few years, it felt as though everyone had Zero Trust on their mind at the conference.
Later on in the day, Jaclyn Miller, VP of IT & InfoSec and Chief Security Officer at DispatchHealth, spoke during our lunch keynote to discuss burnout in the workforce.
Burnout has been a major topic of discussion in cybersecurity, as the workload for everyone continues to pile on top of itself each and everyday. Miller began the session with a great quote related to burnout:
"Sometimes life taps you on the shoulder with a feather. Sometimes it hits you with a brick. And sometimes it runs you over with a bus."
Throughout her career, Miller has worked in the healthcare industry, for startups, and in cybersecurity—industries that are notorious for burnout—so she has some excellent insights into how to prevent it.
She noted that one of the first things individuals need to do is self-reflect and ask if they are feeling overwhelmed, stressed, or unhappy. You can't do anything to help burnout if you don't acknowledge that it's there.
She continued to discuss the importance of recognizing burnout for organizations. A majority of cyber incidents are the result of human error, so if employees aren't performing at their best because of burnout, then ultimately the company is putting itself at risk by not recognizing that fact.
SecureWorld cybersecurity conferences
While this recap provides some insight into what a SecureWorld conference is all about, it's nothing compared to the real deal.
People leaving the event were ecstatic to connect with fellow cyber leaders they haven't been able to see since the pandemic began. Our speakers provided unique insight on important topics that you won't be able to replicate reading articles and statistics online.
Aside from all things cyber, it's a good time to connect with others who are on a similar career path. You never know what one conversation with the right person could lead to!
And we didn't event mention the amazing prizes our sponsors give away at the end of the show.
SecureWorld still has some upcoming regional conferences and virtual events for the remainder of 2022. So be sure to check out our events page and register today!