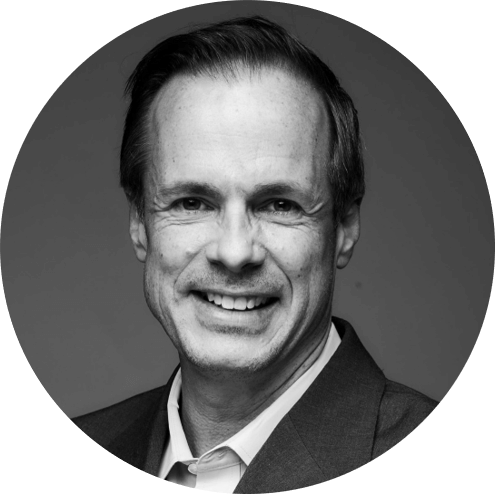 By Bruce Sussman
Tue | Nov 17, 2020 | 4:50 PM PST
President Trump tweeted that he has fired Christopher Krebs, the first director of the U.S. Cybersecurity and Infrastructure Security Agency.
And it may stem from an indirect Twitter war between the two.
Following the election, Krebs declared it a security success story. The President's Tuesday evening tweets dispute that.
The President tells world Krebs is 'terminated' via Twitter
Here are the three related tweets, in order, which the President posted during an 18-minute timespan on November 17th. The tweets announce Krebs's ouster:


The only thing secure about our 2020 Election was that it was virtually impenetrable by foreign powers. On that, the Trump Administration takes great credit. Unfortunately, the Radical Left Democrats, Dominion, and others, were perhaps more successful!

— Donald J. Trump (@realDonaldTrump) November 18, 2020
Christopher Krebs fired: what he had been tweeting
In the days prior to his firing, Krebs had himself taken to Twitter to debunk many of the President's allegations that the 2020 election was rigged. Here are a few examples: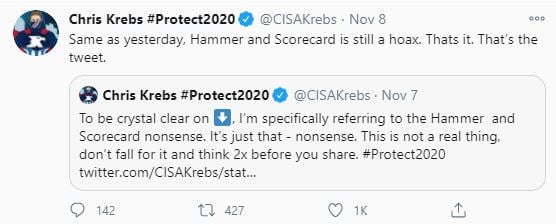 And he even retweeted this comment, which directly criticized President Trump:

Reactions after Trump fires Krebs
Now, people are tweeting about Krebs, and he received support from surprising places. This includes a tweet from Luke Skywalker himself! Krebs responded with a Yoda quote:
Many others in tech and elections also came to his defense through tweets. Like everything in this day and age, nearly every message of support was also political: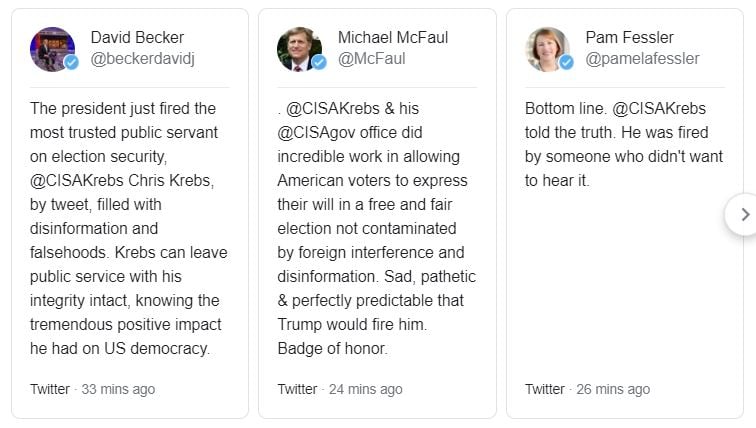 Krebs helped build the Cybersecurity and Infrastructure Security Agency, which celebrated its second anniversary just hours before Krebs was fired.
Security leaders we've talked to have long asked for the U.S. government to help the private sector by sharing its knowledge about attacks and threat actors. They say CISA made serious inroads on this front.
Phil Reitinger, President and CEO at the Global Cyber Alliance, just called Kreb's firing "Black Tuesday for Cybersecurity," which leaves us at a cyber crossroads:
"This action, along with other developments, provide a 'hockey stick' moment for cybersecurity. The actions taken by the elected and appointed leaders of the United States, over the next few weeks and months, will determine whether cybersecurity becomes far better or much, much worse. Public consciousness of the issue has never been higher—you will find the story of Krebs' firing among the first articles provided on the websites of the Washington Post, New York Times, and CNN.
We are presented with both risk and opportunity. The risk is that nations will allow internal political divisions to undercut their national capabilities and actions, like firing Chris Krebs... The opportunity is that we as a nation and a member of the global community can marshal public opinion about cybersecurity and privacy, political recognition of the need for action, and partnership with the private sector and civil society organizations to change the nature of the Internet and how we use it, not in decades but in mere years."
Chris Krebs responds to his firing on Twitter
It wasn't just leaders in cyber and the Twitterverse reacting to his firing. Krebs got into the action himself with a series of tweets thanking the professionals at CISA and saying ransomware is the top cyber threat he sees right now.
And on his personal Twitter account, he's already changed his bio, which now reads: "Used to be the 1st Director @CISAgov. Now I'm going to reintroduce myself to my family, fire up the BGE, watch @UVa sports, and ride bikes."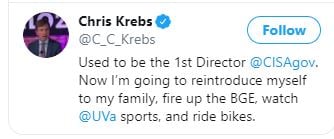 And there is this tweet, currently pinned to the top of his @C_C_Krebs account. It sounds like Krebs is glad he did what he did, the way he did it: