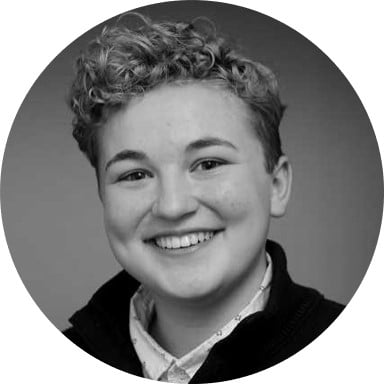 By Clare O'Gara
Tue | Jul 14, 2020 | 9:25 AM PDT
Google takes aim for this shot against stalkerware.
If you have a social media account and an ex-partner, you've probably engaged in some minor cyberstalking.
Stalking an ex on social media is pretty common nowadays, and relatively harmless.
But, taken to the extreme, cyberstalking can extend beyond social media into the real world, and result in dangerous physical consequences.
Data from the Center for Disease Control makes this clear: about one in four women and nearly one in 10 men have experienced contact sexual violence, physical violence, and/or stalking by an intimate partner during their lifetime.
And the digital sphere can make stalking easy. Hundreds of cellphone-tracking apps are available online, many specifically targeted toward stalking romantic partners.
Technology providers know this. And Google is looking to take action.
In an Update to Enabling Dishonest Behavior policy, the tech giant clarifies the status of stalkerware products in its app store.
"The updated policy will prohibit the promotion of products or services that are marketed or targeted with the express purpose of tracking or monitoring another person or their activities without their authorization."
While stalkerware apps are already banned from the Google app store, this policy also bans the advertising of those apps. It's set to take effect on August 11, 2020.
It's also worth noting a giant loophole included in the update: private investigation apps or services designed to help parents track their children are not included in the ban. This exception makes the new policy difficult to enforce.
For one, any app can claim a "dual purpose" and be allowed through one of the exempt subcategories.
For another, even the excluded "tracking" apps can still be construed to help predators engage in stalking behavior.
The intersection: stalkerware and 'hackers for hire'
But cyberstalking extends beyond the app store and the social media feed.
Somewhere down the line, these services intersect with cybercriminals themselves, who use cyberstalking in "hacker for hire" schemes.
And SecureWorld News would know.
While investigating the "hacker for hire" concept, SecureWorld revealed some of the comments we restrict from our comment sections:
"As you might imagine, we allow comments on our cybersecurity stories. However, we've had to block dozens of them over the last year because hackers are trying to use our cybersecurity articles to drum up business."
Our story, Instagram Hack: Unclear Picture of What's Happening, brought out cybercrime-as-a-service comments like this: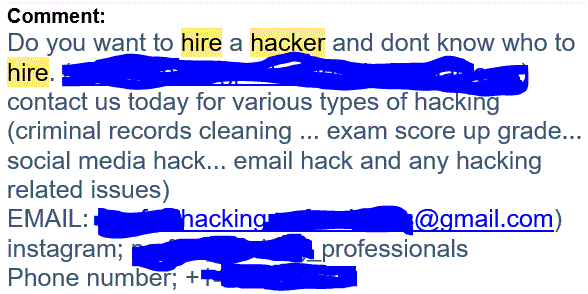 This story, New Warning About Hackers Stealing WhatsApp Accounts, brought out comments like this: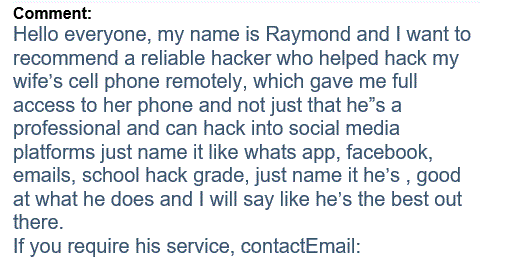 And here's another story we published that gained the attention of hackers wanting to reach their target market. The article was about people who were using a spouse checking app that got hacked.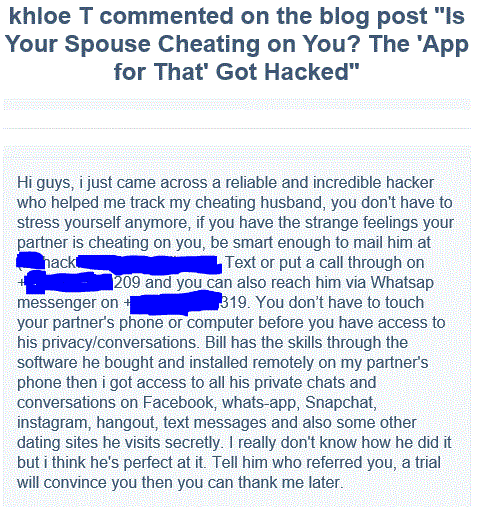 It's hard to tell if these comments are genuine, bots, scams, or all three.
Regardless, the connection is there: apps that promote this kind of behavior are the very thing that Google's new policy aims to block.